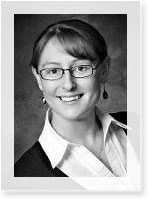 Dr. Jane Baker
I grew up near Liverpool in the UK and obtained my physiology and medical degrees at the University of Oxford. I spent time in Penticton, BC during my medical training and met my husband there. After completing my internship in the UK, we moved to Edmonton, where I undertook family medicine residency at the University of Alberta. I have been providing maternity care with Mom Care Docs since becoming a family doctor in 2008 and I also practice family medicine, based at the Allin Clinic.
I have two children and love spending time with my family, playing the piano, swimming, reading and baking.
Dr. Anneliese Kohler
Although I am an Alberta girl, I wanted some adventure and went to Nova Scotia to complete my undergraduate degree at St. Francis Xavier University in History and Chemistry. I returned to Alberta in 2004 to start medical school, and stayed to do my residency in Family Medicine. I worked at a few clinics before starting a practice at the Allin Clinic and joining the Mom Care Docs group. I enjoy the great variety that each work day brings!
When not at work, I enjoy spending time with family and friends, playing with my own babies, reading and watching good movies.
Dr. Valerie Krinke
Having always enjoyed new life and kids, I have been privileged to deliver babies since 1991 and am now a mother to 3 children. Delivering newborns out of the same hospital I was born in, I also received my science and medical degrees from the University of Alberta. I love intercultural experiences which is reflected in another passion, refugee health.
I have learned a great deal working and traveling extensively in Francophone West Africa where I lived with my husband and kids for almost 5 years. I like to say I have "survivalist" French. I enjoy cycling, walking and skiing in the river valley, as well as sewing and reading.
Dr. Rhea Loiselle
I went to medical school in Edmonton and went on to Ottawa to do my family medicine residency. Upon graduation, I did some short term work in Alberta and BC prior to returning to Edmonton to settle into family practice. I have always enjoyed practising obstetrics and after having my own two children, realized that doing it within a low-risk group such as this lends itself to a more balanced family and work life.
Outside of medicine I enjoy swimming, cycling and running. In the wintertime I like to spend time outside both cross-country and downhill skiing with my children.
Dr. Serena Mar
I was born and raised in Edmonton. I did my medical training at the University of Alberta.
I enjoy various sports as well as travelling.
Dr. Janice May
Bio not available
Dr. Margaret McPhedran
I completed an undergraduate degree in medical genetics and continued at the University of Alberta to graduate with a degree in family medicine. Since that time I have been practising family medicine in Edmonton with a keen interest in obstetrics. It is a part of my practice that I greatly enjoy.
My other interests include enjoying time with my family, travelling, running and the outdoors.
Dr. Catherine Olson
I'm originally from Saskatchewan and am now a long-term Edmonton resident. I'm old enough to be a grandmother and my grandson was born in July 2014. My favourite day is Thursday, when I ride my bike to the Royal Alex to deliver babies and cut toenails.
Other than practising medicine, I ski, knit and speak Spanish.
Dr. Vickie Siu
I was born and raised in Edmonton and completed my undergraduate, medical school and residency at the University of Alberta. Obstetrics is one of the most enjoyable parts of medicine for me and I look forward to taking care of new moms and babies.
Outside of medicine, I love music, baking and all sorts of crafting.
Dr. Carola Starke (Retired)
I was born in Edmonton and graduated medical school from the U of A. After practising in Lethbridge for 18 years, I returned to Edmonton and have been with Mom Care Docs since 2002. In my spare time Barkley the family dog takes me for a walk and I enjoy reading and needlepoint.